Performing on a rooftop in Bushwick with Plan 23. 60 person limit.
Special thanks to Andrew and the NYPD for letting us continue after 12:30pm!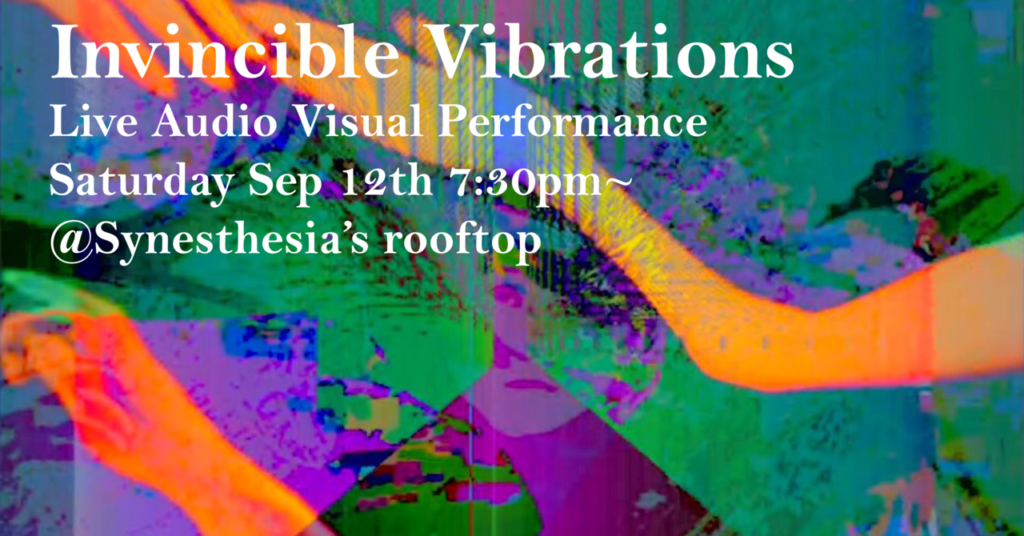 Ongoing journeys in sound and light
live performances by:
●New York A/V Institute
Boris Naz – drum machine, synthesizers
DJ Activphaze – turntables and samples
Yana Davydova – guitar
VJ Fuzzy Bastard – live visuals
—–
●Patrick Todd – laptop
https://7knives.bandcamp.com
—–
●Hisayasu Takashio w/ Kelvin Daly
– sounds of sculpture, oscillators + custom made stringed instruments
http://www.shiotakashio.com/#/performances
https://www.kelvindaly.com/invented-instruments
—–
●Plan 23
Dok Gregory – lap steel guitar, theremin
Karl Scholz – Werkbench sampler
( ) aka Jeremy Slater – prepared guitar, sampler
WvS – software synthesizers
Chris Jordan – live visuals
R. Buckminster B – space trucking vibe carrier
https://plan23.net/
https://plan23.bandcamp.com
—–
Currently, Synesthesia presents Sinejan Kılıç Buchina's solo show, "From Place to Non-Place" at our gallery space. (Every 6 people can get inside of gallery with masks)
http://synesthesia.space/exhibitions
The exhibition and the performance space will open at 7:30 pm and the performance will start at 8 pm. Please, everyone, keep wearing your mask and social distance!
●Date●
Saturday, September 12th, 7:30 pm-Midnight
※If it rains on Saturday, September 12th, we will cancel the event since our space is outdoor. We will announce to you via Whithfriends Email and if we cancel, the ticket fee will be refunded.
●Donation-Based Ticket●
-60 people maximum (to respect our neighbors)
-Suggested donation $10-20
●Address●
Bushwick Area ( close to M, J, L train)
You will get our address when you get a ticket via Whithfriends.
●Rules●
-Please keep wearing your mask and social distance during the party.
-As always, no littering
●Contact●
Synesthesia47@gmail.com
917-789-2252